About Us
Our mission at Startup Company Counsel is to provide the highest quality, legal advice, business advisory, and marketing expertise for startups and growing companies.
We strive to provide the full-service, lifecycle support to emerging companies and exciting new startups. Large established companies have teams of in-house startup attorneys, marketing experts, and board members to help guide the way. Startups have similar needs, but typically not the budget for all of those services. That is where we come in. We take care of the legal side of things, as well as drive marketing opportunities and engagements, provide financing and board advice, and even helping your company get acquired so our clients can focus on their business goals and objectives. We provide cradle to grave business solutions for clients over the long term.


Starting your own business should be an exciting time, but there are several hoops to jump through on the way to a successful company. The paperwork involved is frequently misunderstood and can be tricky to navigate. Startup Company Counsel has extensive experience helping startups and businesses and can provide the legal guidance you need to succeed. Our goal is to understand your business as well as your company's future objectives and poise your company for growth and success. Whether that means positioning your company for an initial public offering (IPO), for a future merger or acquisition, or for staying privately held for the foreseeable future. We then customize legal solutions to help meet your objectives, including processing the associated documents and filings. Our experienced startup attorneys help identify issues that you may not yet have considered and can advise you in making important decisions on otherwise complex topics. As your business grows, we are well-suited to meet your growing legal needs. Our business approach encourages collaboration in all aspects of our integrity-driven representation. Our attorneys have specific experience in the areas of corporate law, securities, employment, business litigation and real estate. We bring the appropriate skills and experience to the challenge at hand.
We also have a team of business experts that can guide you in creating a roadmap for your company and in making major business decisions. We have helped innovations from small and medium tech companies make their way into the marketplace through a variety of mechanisms, including product incubation, technology transfer, asset sale and licensing, among others.
We have worked with various companies for over a decade and are able to leverage our deep relationships and ongoing collaborations with the Silicon Valley community to connect your business to the right investors, researchers, inventors, bankers, etc.
We understand that the value placed on your business varies greatly, depending on who can exploit its benefits. We help unlock value in the underlying innovation by placing it in the right hands.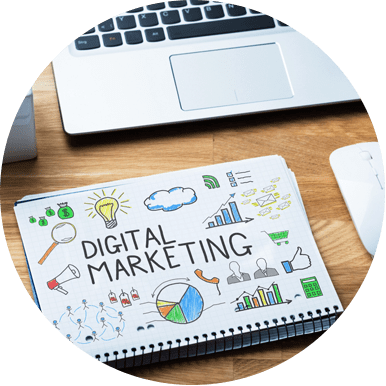 Our digital marketing strategists will help create the ideal buyer's persona and research their trends online. From their content capturing trends, to their online browsing behavior to how they research their pain points. Once you know where your buyers are, you need a detailed execution plan to target and capture their buying and/or decision-making moment. We can help bring your ideas to reality and provide impressive digital experiences by sourcing the right talent, connecting your business with the right audiences, and driving relevant traffic.