Read Top Email Marketing Tips For Your Small Business & Startups
Investing dollars in your business marketing can't just be a casual thought! If you are a small business owner — email marketing for your business can help you foster better customer relationships & build a brand that continually grows.
Defining Email marketing – Email Marketing is cited as the most profitable form of online marketing boasting ROI. It is a mode of sending business (commercial) information to Email users. It could be in the form of advertisements, request business, subscriptions, sales or donations, promotions, and more.
ROI earned through Email marketing helps small business owners to make a profit substantially!
Read on some key benefits of email marketing for small businesses & other businesses –
1. Better Brand recognition
2. Builds Reliability
3. Targeted and Customized content
4. Boost sales
5. Stronger Customer Connections
6. Controls Budget
7. More traffic on the website
8. Creates authority
So get on with your small business through email marketing as we are here to give some essential inputs on the same!
The most frequently asked question is – How email marketing can help your business?
Here are some email marketing tips for small businesses to help it grow!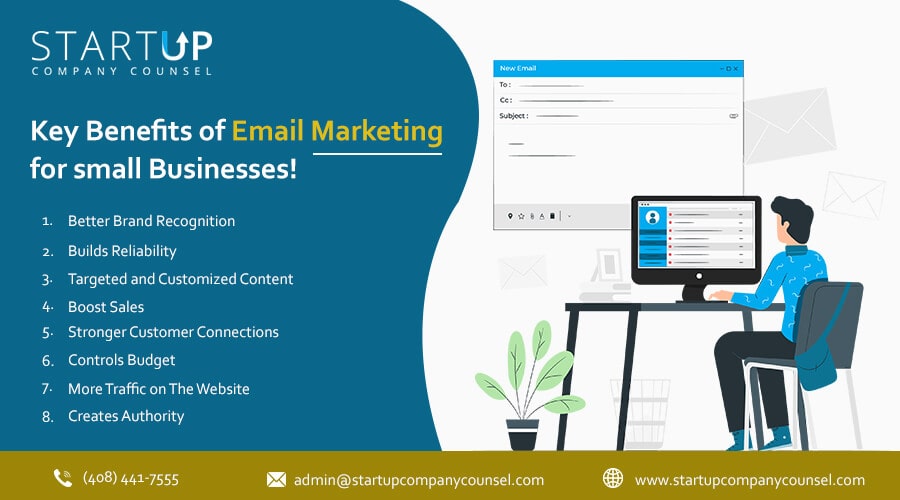 1. A well-framed Goal for customers' journey – Once you begin with email marketing (for small business), frame clear goals of what you want to achieve. It is essential as once your info hits the client's inbox, it embarks a sales journey that might become a fruitful deal. Emails sent with clear objectives directly nurture leads into sales. Please make sure that emails are rightly optimized and linked with your set goals.
2. Easy Subscription – Have a sign-up form on your homepage for the subscription. Adding short descriptions for client's names, birthdays, inviting readers to join groups, can benefit in the long -run. Tell subscribers what to expect- have clarity in the information you want to deliver, be it company updates, sales, daily deals, or weekly instructions. Your subscription/sign-up form must have all the details you will be providing them.
3. Welcome Email – Always make the smart move in the first go. It is always good to greet your clients for good things that are in store. A special offer to the subscribers in the form of discounts, always make them visit the website often, and this shows their loyalty.
4. Easy to read Emails & Impressive Taglines– Always remember there are just a couple of seconds to grab the reader's attention through Email! Work on your titles, taglines, and the formatting of your Email to make it easy to read and scan.
Use the following –
· Appealing subject line
· Sub-heading,
· Short paragraphs,
· Images (if any) with set ALT tag,
· Show & Tell in the form of a teaser
· Read-More for long paragraphs
5. Manage Newsletter – Your email campaigns must comprehend your brand's image. Try adding logos, specific color options in the header. Use a casual tone in your email newsletters that have something to say. It must offer only those commitments that are in tune with your business goals.
6. Mobile-friendly– Most Americans prefer reading emails on their phones themselves. Make sure to send mobile-responsive Emails. Being mobile responsive means – the Email can "respond" to the different screens like desktop, mobile, tablets, used by the subscriber, and offer the best experience.
Also, A/B testing (also known as split testing) must be done for effective results. Through this testing, you can compare two versions of a webpage or app against each other to conclude which one executes better.
7. Analyze and optimize – So, after all the efforts of attracting and retaining the viewers, wouldn't you need to know the impact it creates/created in your business? Of course, Yes.
Assess the performance of your newsletters/email campaigns and enhance them accordingly as required.
Check –
· Open rates
· Click-through rates
· Unsubscribe rates
· User action rates
Analyze posts that showed most subscribers and the post that got the high number of unsubscribing. Consider revising your approach accordingly.
We will sum up –
Why email marketing is important for small businesses?
Defined Email Marketing attracts website traffic, drives sales, builds social engagement, loyalty, and trust in your brand. Email marketing can entirely build relationships with viewers, prospects, leads, existing customers, and even past customers because it works on the client's convenience. Direct in the inbox, no long hours to talk or repeated calls.
Now that we discussed email marketing for small business owners & email marketing tools for small businesses, focus continually on these email-marketing strategies as they can lead to success eventually. Monitor and improve to deliver real email marketing ROI.
Drop-in your concerns/requirements for email and other digital marketing services! We would be happy to serve you!