LinkedIn Marketing: The Ultimate Guide For Small Business
LinkedIn is a networking site purely connecting the world's professionals to make them more productive and successful. LinkedIn content strategy varies, but one thing is for sure, create your goals & then understand too how your efforts are paying off. It's better to have specific, measurable, attainable, relevant, and time-bound goals.
In this blog, our focus is on helping our viewers understand different LinkedIn marketing strategies for small businesses that can help them grow their business through this platform.
So, what is the best way to use LinkedIn for business?
Well, for any business to work fine, it's predominantly essential to have a pre-planned strategy that it should work on! The LinkedIn marketing strategy would work, once you have a detailed Company Page through which you can grow your audience and drive business results. Complete Company Pages & regular posts generally gain more followers.
On how do businesses use LinkedIn for marketing? There are multiple ways to vend a business on a social platform, but here are some essential LinkedIn marketing tips for small businesses that will drastically increase their marketing potential:
Top LinkedIn Marketing Tips for Startups & Small Businesses
1. Scrutinize Competitors –
A business needs to understand its competitor's successful strategy.
Check –
· the type of content posted,
· the topics
· audience following such posts
You can use this to modify your strategy for better results.
2. Grow Your Followers –
The primary focus of small businesses must be on to grow the viewer/audience/follower list. One way is to connect with industries on LinkedIn, having similar lines and followers as your business. Another way is by tagging self on highly relevant content to increase followers.
3. LinkedIn Page of Employees –
The approach says to gain followers, so if your employees are active on LinkedIn with your company name, it promotes page visibility not only in LinkedIn but also in search engines. Make sure on your company page you have clear set personas such as value statements, service provided, & target audience.
4. Share Engaging & valuable content. –
There has to be a clear cut strategy for content that has a path for outbound marketing, ads, inbound marketing. So, create & share quality content, pull audiences through advertisements, and showcase what you have to offer.
5. Vivid yet Engaging 'About Us' Section –
Be extra careful with your description of your company as there is a limit assigned to write the details. Flutter as many words to help visitors know about your company. Use readable and simple language while describing -who you are, what you do, and what your company's aims are!
Learn How to use Linkedin for Business Marketing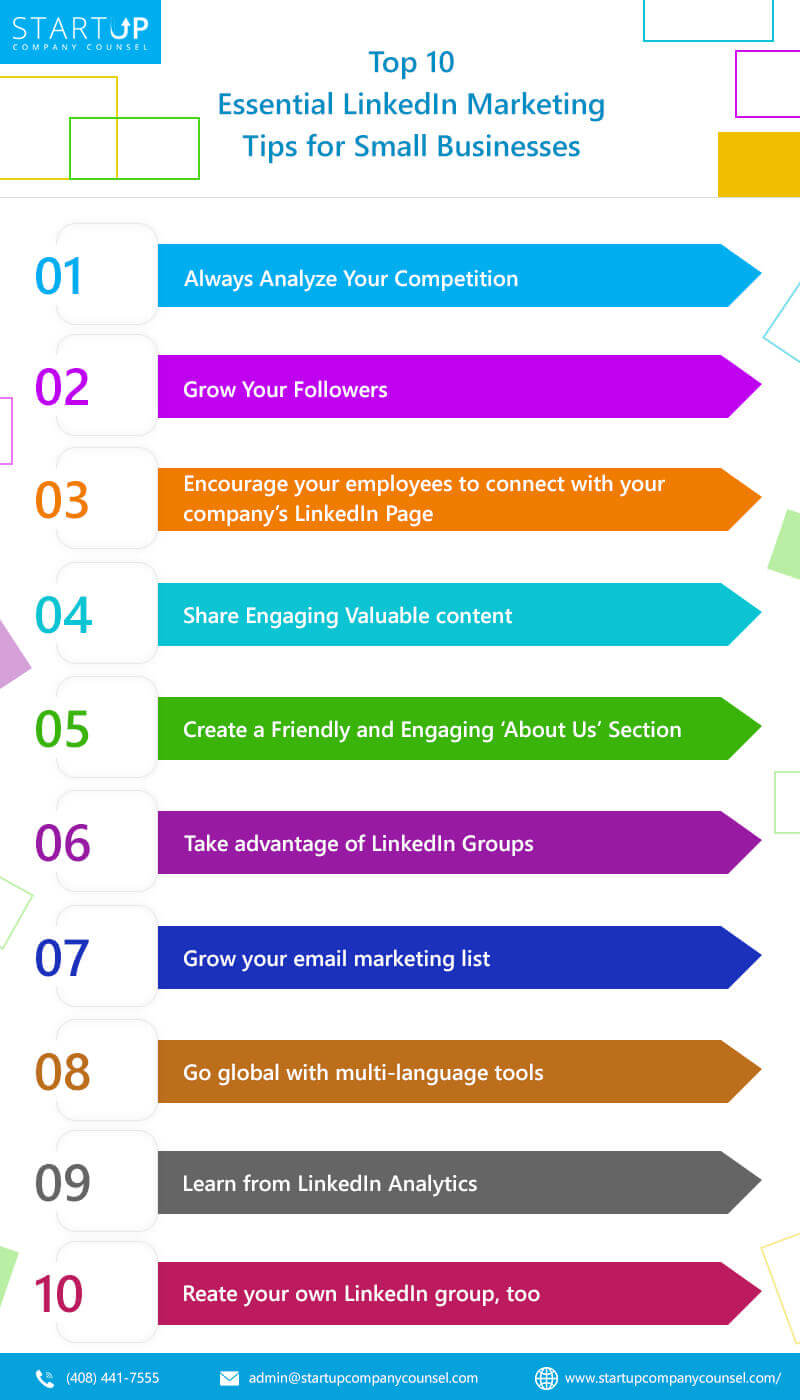 6. Benefit from LinkedIn Groups –
With several groups on LinkedIn, identify the group of your niche through relevant keywords. Once you find them, join these groups, be active in posting content in the group, and nurture leads along the way.
7. Increasing Email marketing list –
Invite your followers on LinkedIn to be part of your email marketing list. You can add a direct link for the email signup and make it more engaging & also add-on benefits by signing up for the email list. You can always approach digital marketing agencies – StartUp Company Counsel to augment your content to reach a broader audience & bring new eyeballs to your Company Page.
8. Go global with multi-language tools –
For a diverse customer base, create custom descriptions of your company in different languages. The viewers can translate information appearing on LinkedIn through language settings. With global followers, you can build credibility that can add business.
9. Learn from LinkedIn Analytics –
LinkedIn has its set algorithm rates. These can be –
· Evaluating content as spam
· Measures initial user engagement
· Spam Check
· Review content through Human editors
So, it is best to know the algorithm rates, and how it ranks your content, to modify your LinkedIn content strategy further.
10. Creating LinkedIn group –
LinkedIn groups work best for networking opportunities. Create your group, join other groups, socialize with other groups too. With the group authority, you can form a place for you to interact with the target audience.
11. Include LinkedIn ads –
LinkedIn members can make sharp strategic decisions through LinkedIn ads into your social media marketing strategy.
Incorporate Ads through Sponsored Content, Text Ads & Sponsored InMail
Conclusion –
There are several LinkedIn marketing tips for small businesses, leaving a lot of room for B2B marketing.
Linked In is one of the great social media marketing platforms to score high on the lead generation scale.