Powerful Twitter Marketing Tips For Startups & Small Business Owners
Twitter connects people and brands with current happenings — and while new conversations continue to unfold, there are some buzz-worthy tips for marketing on twitter, you can plan.
What is the best way to use Twitter for marketing?
Twitter has a base of more than 250 million active users, and with that, small & running businesses find it easier to reach & connect with the new watchers. Startups & Small companies have been managing their work through Twitter for long to grow their business. Twitter allows people to talk "directly" to their customers. As Twitter confirms, their customer service communications have risen by 230% in the last two years.
So, what is the Twitter marketing strategy?
We've rounded up 2020's most consistent & top twitter marketing tips that will unfold a successful path. Tie them into your business strategy for better growth.
1. Profile Creation & Submission –
A branded, professional Twitter profile creates a good first impression on new followers. Various elements of your profile help to bolster your brand.
Account name – to help clients to find you on Twitter. Be consistent across social media platforms for your company name.
Profile photo – Post a clear and crisp profile photo or logo or wordmark.
Header image – Header image appears on your profile page. Use it for on-going campaigns, information, company insights.
2. Be Consistent with Tweets –
To use Twitter for small business, Tweet consistently. The best would be to spread planned tweets throughout the day. Combine original content, with retweeting to get maximum effectiveness and engagement. Consistency creates increased authorization, bringing in leads, and deals.
3. Curate your feeds with Lists
Lists are curated feeds from chosen accounts, meaningful discussions & prominent people. You can make as many lists & as they are arranged in order, it is easier to follow emerging trends and current events. Name & subscribe to the lists accordingly as they are public.
a) Select View Lists from the chosen profile page
b) Click the list you want to follow -Lists created, Lists that include influential accounts, and subscribed lists.
c) Subscribe.
d) Follow & check Lists on your Twitter home page.
4. Drive a Twitter poll
Twitter polls allow you to put questions, and one can select four answers from them. Surveys engage your clients, & let them express their opinions about trivial topics. Also, polls get feedback and ideas, customer preferences, product views, and more.
Top Tips of Twitter Marketing For Small Business Growth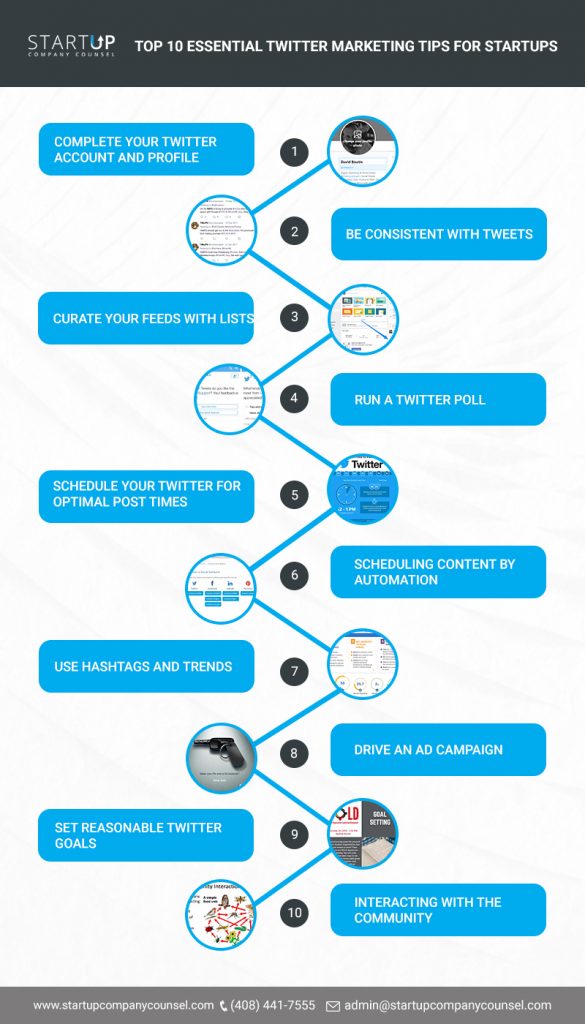 5. Scheduling your tweets
Again like we said for posting Tweets, scheduling, pre-planning & posting at the right time can generate massive engagement and virality. You can connect with digital marketing companies such as StartUp Company Counsel to frame content timers for what goes out and at the optimal times.
6. Scheduling Content By Automation
Now you can automate and schedule your tweets using TryLately, HootSuite, Buffer, SproutSocial, among many others. You confer-up by planning and automating your marketing with social media management stints.
7. Use Hashtags
A hashtag is a baby of Twitter. And they remain a priceless tool to boost engagement on your profile. Knowing how and where to use hashtags on Twitter makes content more impactful. Finding the right hashtags, creating a branded hashtag, following trends, and not overdoing it, helps businesses to reach prospective clients.
8. Drive an Ad Campaign
While handling your Twitter account, make sure to run an ad campaign. Advertising on Twitter is again a medium to – boost sales through a growing audience, promoting your products/services and engaging clients. You can simultaneously gain new followers or promote individual tweets to increase campaign visibility.
9. Set reasonable Twitter goals
Set measurable goals to keep your goals on track. Your goals for Twitter must focus on increasing traffic & building leads.
Building an engaged follower/client list
Impelling traffic to an offer or email list
Posting links to blog content
Exceptional customer service on Twitter
Networking with industry
Measure your set Twitter goals & analyze if you need to tweak your strategy for your goal's progress.
10. Interacting with the Community
And lastly, we recommend Twitter Business Accounts to interact as often as possible with their clients. One can do it in these forms –
Direct Messages – Build connections with your clients through DM in a regular manner. It will help in lead generation and relationship building.
Notify – Mention followers/ clients using "@username" or add in some relevant hashtags. It directly engages with that user.
Twitter Chats – Twitter chats get you conversing about specific topics or create your own.
Replies – Replies are a great way to keep the "engagement" in social media.
Conclusion –
These Twitter Marketing tips for startups and running businesses works well if you consistently follow them for your brand. Twitter marketing strategy varies as per the business and industry, but the rules remain the same. Work on these best practices to build a Twitter presence & achieve business goals simultaneously.