Top Youtube Video Marketing Tips and Tricks For Startup
Are you a Startup Owner and still exploring your business through Social Media! I am sure you are well-versed with YouTube – the most dominant in SMI. Let us focus entirely on YouTube marketing strategy (for a startup) that holds the world connected with over a billion users.
What is YouTube's marketing strategy?
There is not a single step to framed as YouTube marketing for startups. There are multiple steps to climb to reach the ladder. But, yes,the first essential thing to be successful with YouTube is Regularity. It is not as simple as it seems, but the former job is to be consistent with your actions.
Let us get straight to the point as we look into some essential steps to be successful on YouTube –
Make a YouTube channel for your business –
Login into your business Google account, step to YouTube, and enter your account details. Once you create the channel, enter all the details asked like name, business, images, bio, and more. Select a good profile pic with an icon image – 800 x 800 pixels and a banner image representing your company. You can also add more "managers" or "admins" to your YouTube channel with permission to view, post, and manage the channel.
Pick the right Format for YouTube content –
Frame your content format & schedule it, and make sure to have a real one. Create engaging content that attracts visitors. You can pick options such as Product descriptions, Product reviews, Know-how, Talking head, Interviews of Established Personalities, Screen- Share, How-to-Do/ Tutorials, VLOG (video blog), Testimonial videos. Manage & Stick to the schedule you opted for!
Get Regularity in Uploading Videos –
Maintain a calendar for the videos you need to upload and be consistent with that. It is a good practice & essential to plan your social media content, especially when it comes to YouTube channel marketing tips or social media marketing strategies for startups.
Create Actual Video Campaigns –
The best way to convince viewers is by creating actual video campaigns and detailed ones. Startups Video content adds value to any business's marketing/YouTube strategy. Publishing Actual, Exceptional, Effective YouTube videos attract views and followers!
Editing tools
To create great videos, you need the right resources, of course, with talent and creativity. Check for Video marketing tools that are affordable or freely available in the initial stages. The tools such as Vyond or Slidely can provide you with the tools and materials to put together a great video all by yourself.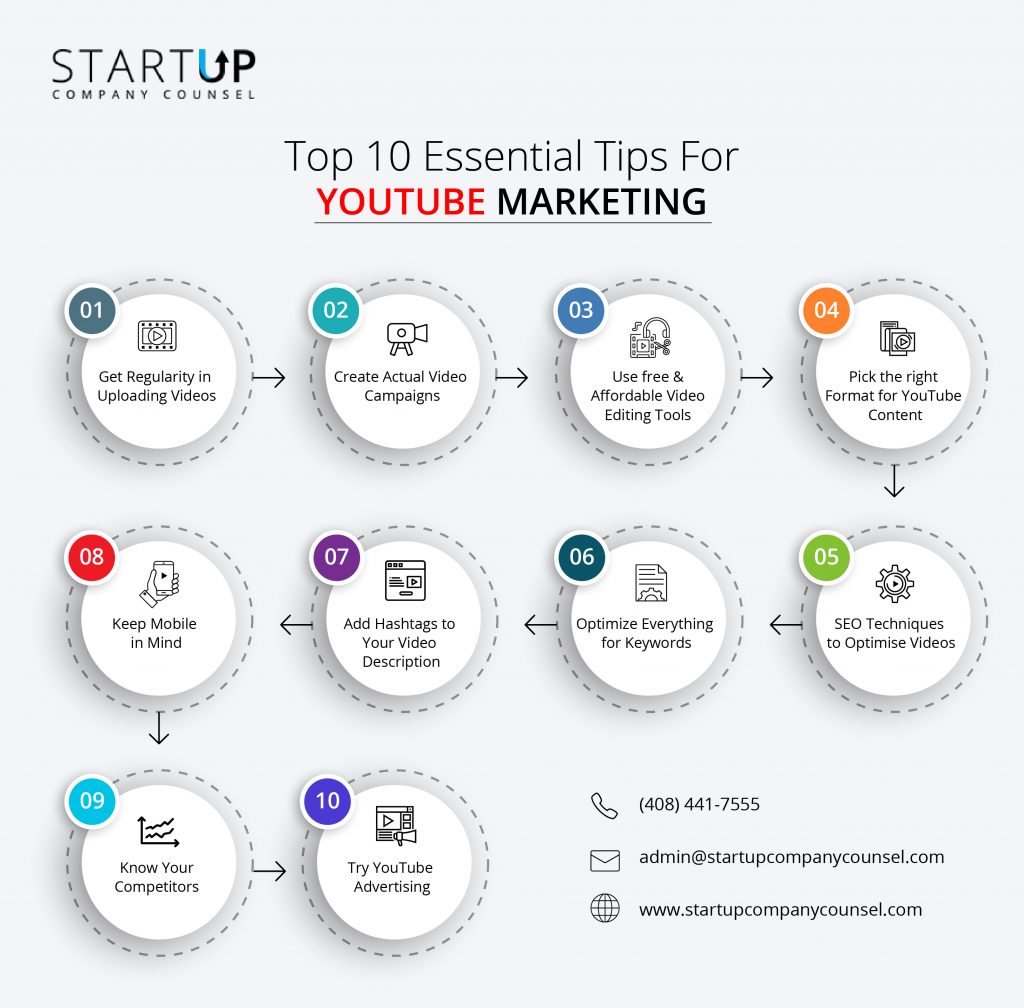 Using SEO Techniques–
SEO includes Keywords. Add keywords related to your business. It is a crucial step to optimize everything for Keywords in your video title, the description, and tags. Startups can take Digital Marketing services from companies such as StartUp Company Counsel that can place the related keywords in place. With that, the search engine can know the details of the content of the video and highlight when viewers search for topics related to your video. Also, add Hashtags to your video description to make your channel more searchable on YouTube.
Keep mobile in mind –
Make sure to optimize the recorded content for a mobile playback format. So make videos that work with or without audio! One can also record short video (three minutes or less) as the average mobile viewing session is over an hour!
Know Your Competitors –
Competitive analysis takes businesses ahead of their competitors on YouTube. Surf your competitors' YouTube channels and get a sense of what somewhat content your audience likes to watch.
Try YouTube advertising –
YouTube ads work well when it comes to advertising. YouTube advertising assures around a 15-20% increase in web traffic for startups. We recommend advertising through skippable video ads, Non-skippable video ads, Bumper ads, Overlay ads, Display ads, Sponsored cards.
What are the benefits of using YouTube marketing?
Conclusion –
YouTube serves as the most competent channel for video marketing. Through effective SEO techniques, one can build traffic, increase brand awareness, grow social reach, market to audiences overseas, and enhance their ROI.
Being a Startup owner, review your platform, explore your interests, find the content you like. Connect with a Digital Marketing Company – Startup Company Counsel – as suggested earlier, to have a successful & smooth business campaign.