All In One Content Marketing Tips for Small Businesses
What is content marketing?
We create content for the audience to read, watch, and consume. Content marketing is in the form of Blogs, Vlogs, Videos, Info-graphics, Social media posts, Ebooks, E-guides, Newsletters, and much more. The actions we take to promote our business through these forms is Marketing. So, Content marketing is an online journey that uses content to impress the audience from stranger to sale.
Now that we are aware of what Content Marketing, let us learn-
The benefits of content marketing tips for small businesses and startups.
Helps in Relationship-building
Adds value to audiences' lives
Build credibility with the audience successfully.
It is not as pushy or confrontational as other marketing and sales tactics
Increased ROI when compared to traditional marketing,
Content Marketing for Startups drive traffic, leads, sales, as well as increase brand awareness
Here are some pro tips for content marketing tailored for startups & small businesses to boost their visibility and generate higher revenue.
The Complete List of Creative Content Marketing Ideas for startups-
1. Brand Visualization–
All brands attract audiences with a different visualization. Make sure that while creating your startups content, it reflects your brand's right image. Through this, new and recurring audiences can recognize you. Let customers know that your company stands by its reputation of being the best. Additionally, focus on technical details like fonts, color palette, formatting type, to be different.
2. Be in wave with Industry Trends –
Check Industry trends and be in sync with them to keep your readers up to date—research on trending topics and be original with content creation. Consider popular news sites , blogs, and forums to know what's more visible and searchable by viewers.
3. Content Logbook –
To achieve a stable marketing strategy, form a digital content logbook. Organize your content activity & maintain a steady pace of publishing content. We would not recommend using a manual planner. You can also use platforms such as ProofHub, Trust My Paper, and Evernote.
4. Guest Posts –
Guest Posting is the most worked tips for content marketing success. Other than your platform, post content on high-authority websites. Not only will you connect with an established audience, but you will be able to gain traffic on your website as well. In return, you are helping those websites by supplying fresh content to their blog. Startups can connect with companies such as StartUp Company Counsel, a web content Digital Marketing Company, that are experts in marketing services (including Guest blogging) to boost their growth.
Effective Content Marketing Ideas for Small Businesses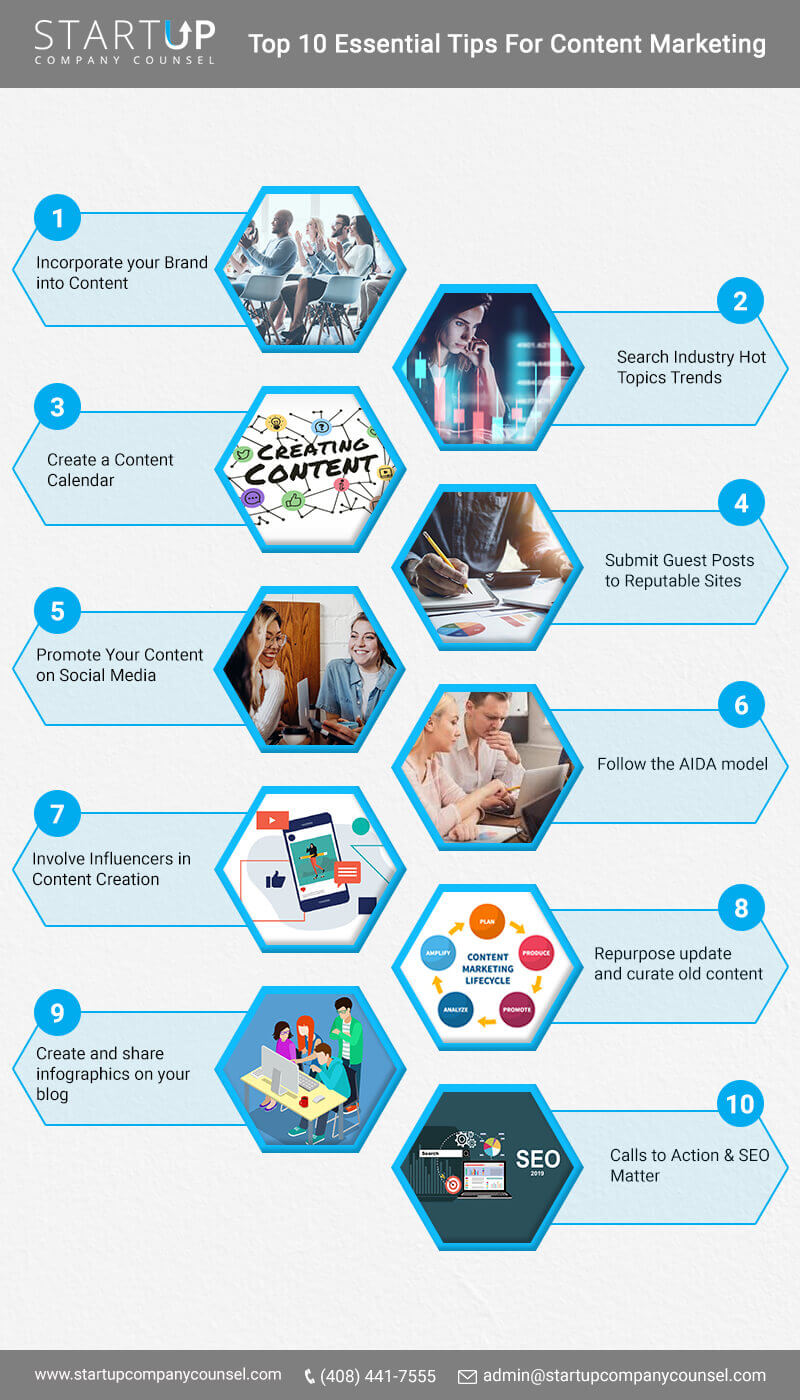 5. Content marketing through Social Media –
Social Media is one of the most influential marketing channels. A startup needs to have a presence on Social media platforms such as Facebook, Instagram, and Twitter. Since Startups are new to the marketing world, they must share new marketing content with the international audience. Use every social outlet at your disposal to reach the global market.
6. The famous AIDA model –
AIDA defines the several stages of customer conversion funnel. The definition is – A – "Attract attention," I – "Maintain interest," D – "Create desire," A -"Take action." Use the model and be consistent with the action.
7. Involve Influencers in Content Creation –
Around 85% of consumers trust social media influencers. Collaborate with entrepreneurs and local influencers to talk about your brand or product. Consider influencer-marketing tools such as Buzz-Sumo, Upfluence, as help. Also, select the influence that best fits your brand and industry.
8. Curate Old Content –
Over time, we are sure you have too much in your plate as content. You can always update the old content to fill up your content logbook. They are useful to show your brand integrity for being a relevant source of staying in trend.
9. Infographic Blog –
An infographic blog displays comprehensive data in a visually appealing way to keep the viewer engaged and informed. Pick your old blog post, article, report, or a survey, and use it as an infographic. The key to fantastic infographic design (most excellent content marketing SEO tips) is to pick a layout that effectively conveys the information in the most real and impactful manner.
10. Call to Action –
Last but not least, make sure to include CTA's in your content. CTAs – "calls" the reader into "action." CTA highlights engagement, service/product purchase, or subscription-based on the company's marketing. These are much effective in higher conversion rates, landing new clients and contracts.
Content Marketing Tips Conclusion –
Content marketing is trending, so, focus on improving your startup's blog and content on other social media profiles. Content marketing is an excellent medium for a startup's growth. Include these content marketing SEO tips into consideration while strategizing your startup's marketing plans. With apt content, the right audience will find your content appealing and make sure that others hear about your startup and the exciting projects in your kitty.
If you have any questions on framing a content marketing strategy for startups, Let us know in the comments below. We can help your startup/small business with improving your content, and connect your business with the right audience.